Message From The Met Office Advisor – Yorkshire, The Humber Region & NE England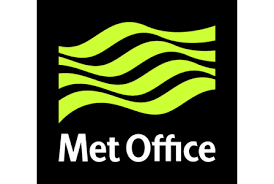 Quite a day for some of us yesterday. Western, Pennine areas saw the worst of the torrential downpours and thunderstorms. You've probably all seen the footage from Richmondshire in North Yorkshire where there were some very serious impacts following around 100 mm of rain in 2-3 hours. In fact there are some unofficial recording stations that registered considerably more than that. The rainfall rates, hailstones and lightning were of a level that is really quite rare in the UK. It wasn't just Richmondshire, but other western parts of South, West and North Yorkshire also saw some impacts from rapid build-up of surface water as a result of torrential downpours.
Moving to what's happening now, and one look at the rainfall radar picture is enough to give cause for some concern…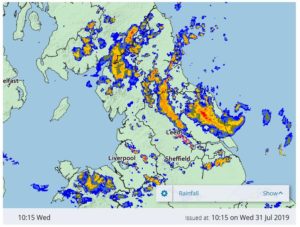 Once again, we can see some bands of heavy rain/showers. That's not good news when the ground is already saturated. Where the showers line up and form bands (like just to the NNE of Leeds), the rainfall totals could well build up. The pink and white colours on the above image to the SW of Leeds indicate more localised, intense downpours which may produce lightning/hail. Overall then, a mixture of dry spells and some very heavy rain/showers/thunderstorms. As a result of all of this we have a Yellow Warning of Rain in force (very low likelihood, medium impact). The warning is valid all day today, and covers the whole region. The following impacts are possible…
There is a small chance that homes and businesses could be flooded, causing damage to some buildings
Where flooding occurs, there is a chance of delays or cancellations to train and bus services
Spray and flooding could lead to difficult driving conditions and some road closures
There is a small chance that some communities become cut off by flooded roads
There is a slight chance of power cuts and loss of other services to some homes and businesses
There is a small chance of fast flowing or deep floodwater
I'll try and end on a positive – the showers will fade away this evening, to leave a largely dry night. The odd shower is possible tomorrow and again on Friday, but much lighter than recent days, with light winds and temperatures in the low 20's Celsius, it should feel pleasant.
I'd recommend referring to this mornings Flood Guidance Statement for a view of overall flood risk (including rivers), and keeping a very close eye on the rain radar.
Useful Links:  Hazard Manager, Met Office Website (location specific 7 day forecast), Met Office App
That's it for now, but feel free to get in touch if you need anything
Kind regards
Kevin
Kevin Wadsworth
Met Office Advisor (Civil Contingencies)
Work: 07825 102520
Skype: 0330 1351439
e-mail kevin.wadsworth@metoffice.gov.uk
For 24/7 help and support, contact EMARC on 01392 886095
Website: http://www.metoffice.gov.uk